By Stephanie Beck
I'm very excited. This fall I'm going to my first convention (Midwestern Book Lovers Unite in Minneapolis, MN). It happens to be right in my neck of the woods, and everything just lined up, so I'm going (
here it is if you'd like details
). I was asked to be on a panel for writing from an opposite sexual orientation stand point.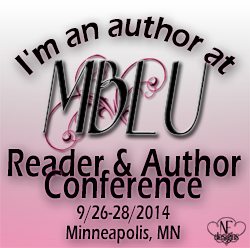 So, sounds like they read Just One More. In Just One More, Kit and Adam have a loving, happy marriage, but something is always missing. They even know what it is--and his name is Gav.
Two is enough, but three could be everything.

Kit and Adam Jacobs know what their marriage needs—Gavan Karik. He's the one man they both want and the only one who can make their relationship complete.

Making Gav part of the family comes with a price. Family, infidelity and self-worth issues plague Gav, but Adam and Kit are willing to tackle those issues if Gav is willing to commit.

For every problem they conquer, another one pops up. Not only are the three adults working to meld a broken family into one, they're also struggling with a blackmailer threatening to out the two men's sexuality and issues with the kids being mistreated at school. With each battle all three have to decide if the vision each sees for the future can match and if the reward is worth the fight.

Content Warning: Strong language, graphic sex, and explicit incidents of laundry washing within.
In this novel, there is bisexual content, and other things further into the world of erotic romance than some of my work goes. I had to do a lot of research, ask a lot of questions, and use my nifty imagination.
I'm not sure what the questions will be like at the Midwestern Book Lovers Unite convention, but I'll be happy to answer them (if you're there, you'll recognize me as the one who is blushing up a storm).
One thing I have been asked a lot--Do you do everything you write about? The answer is, naturally, yes. Of course. And then, after their eyes get big, I give the real answer: No, I don't do everything my characters do. A lot of what I write is a mix of experience and research. Where the two cross and overlap is the beauty of fiction.
Get your summer reading started! (I'd start with Just One More--seriously, I love Kit, Gav, Adam and their family).
All the best,
Stephanie Beck
www.stephaniebeck.net
www.facebook.com/StephanieBeckAuthor
www.twitter.com/StephBeck123