Yesterday my seven year old daughter came home from school Tuesday and asked me if we could write a letter to the Easter Bunny and tell him what toys she wants.
I was taken aback, when did Easter become Christmas?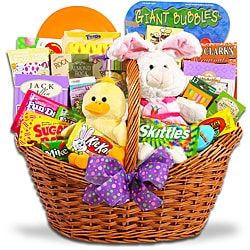 I asked her what exactly she wanted (I guess I need clarification on just how material my child was)? She answered was that she wanted
The Monsters High Wii Game
and the Lalaloopsy Mermaid
among others toys.
When I was growing up I was was happy if I got a small chocolate bunny, a few chocolate eggs, a colored egg, and jelly beans.
I guess the reason for this post is I feel that my kids have lost the ideals that I grew up with. I used to search for those plastic eggs (they had nothing in them) for the thrill of just finding them. If my seven year old found an empty egg I think she would have a breakdown.
This year I'm putting my foot down and we WILL have a simple Easter morning. My girls will find chocolate, jelly beans, a colored egg, some books, crayons, and bubbles in their basket. I will hide the plastic eggs and I'll put chocolate eggs or stickers in them and that's it. No money, no small toys.
I just pray I have a peaceful Easter!
See you in two weeks!
Tamaria